Client Examples & Testimonials
DavidCutler.net - 617-331-7852 - david@davidcutler.net
As a Sales Coach, Marketing Consultant, and Partner... I deliver:
Quick wins from faster qualifying techniques

New sales opportunities in adjacent markets

Persistent alignment between marketing strategy and sales tactics

Predictable sales flow delivered from actions and reactions
Details below on my role at these 3 (of many) types of clients:
1) Early Stage Startups - Product/Market Fit, validation, Go-To-Market strategy, spinoff services2) Market Entry for Disruptive Technologies - New industry assessment, strategy, collateral, increase deal flow3) Corporate Innovation Labs - Emerging tech advisor, custom software broker, problem solving
---
1) Early Stage Startups
My Role: Product/Market Fit, validation, Go-To-Market strategy, spinoff services

EventAdvisor.com - AI powered search database of social peer-rated live & online conferences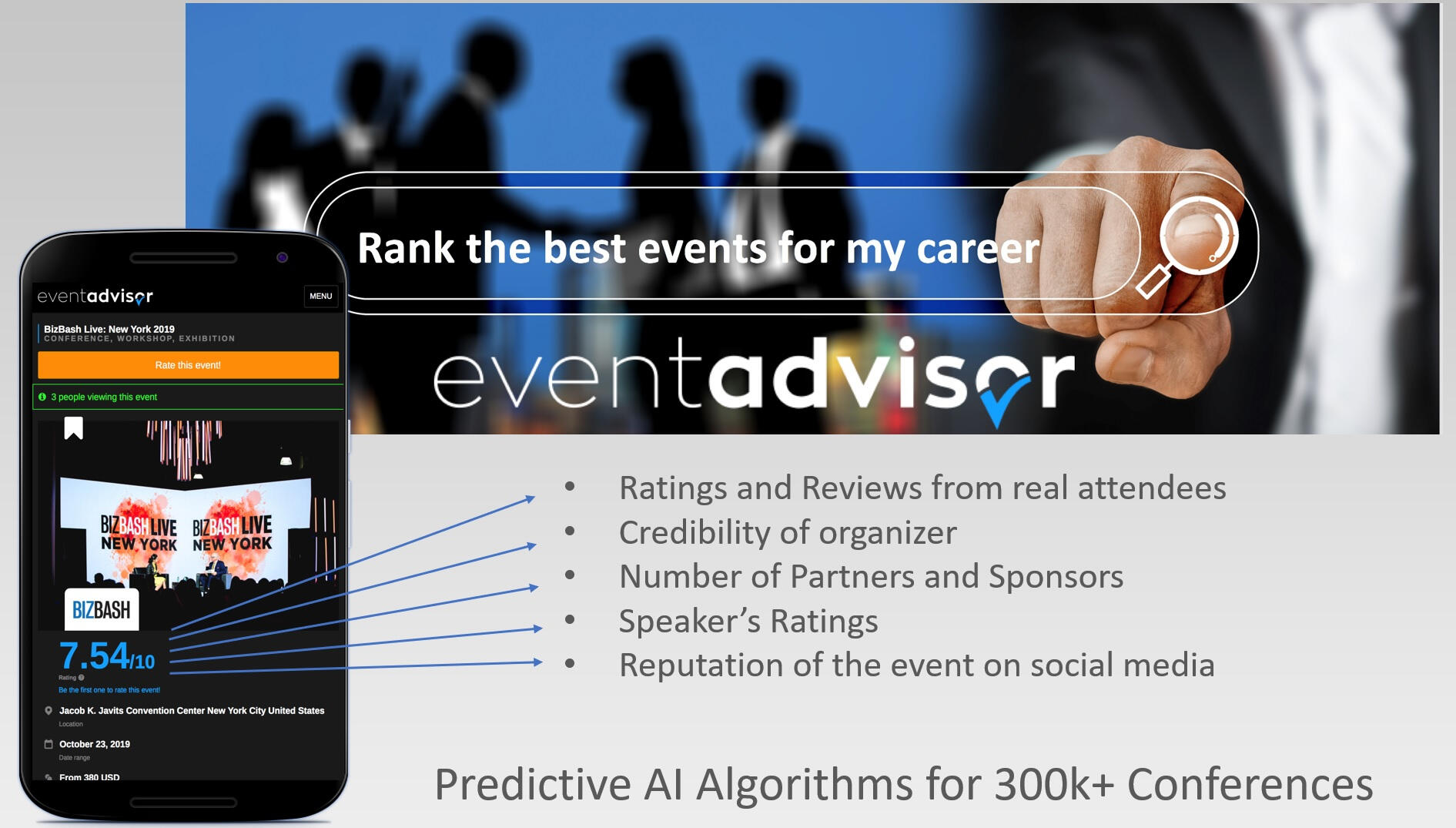 Working closely with the founder, we redefined business models and expanded into new niche markets for a 150% increase in revenue in 6 months from $700k to $1.75m. On track to double that growth by driving revenue-shared attendee registrations for event organizations. Coordinated internal teams to research, validate, develop new product functions, and design collateral and campaigns to increase co-promotions.To ensure scale of growth, I prompted a 3rd party "ecosystem Exchange Marketplace" such as a sales channel partnership with Eventbrite for seamless growth with appreciative event organizers adding $500k this year.NEW BETA SPINOFF: Leveraging existing databases for a new service, OnlyRelevant.online is a Speaker's Bureau for instructors, thought-leaders, and sales presenters to an interactive crowdsource-paying audience.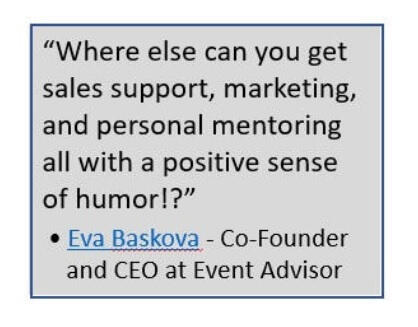 ---
2) Market Entry for Disruptive Technologies
My Role: New industry assessment, strategy, collateral, increase deal flow

NuArca.com - Venture Studio building with Enterprise Blockchain SaaS and services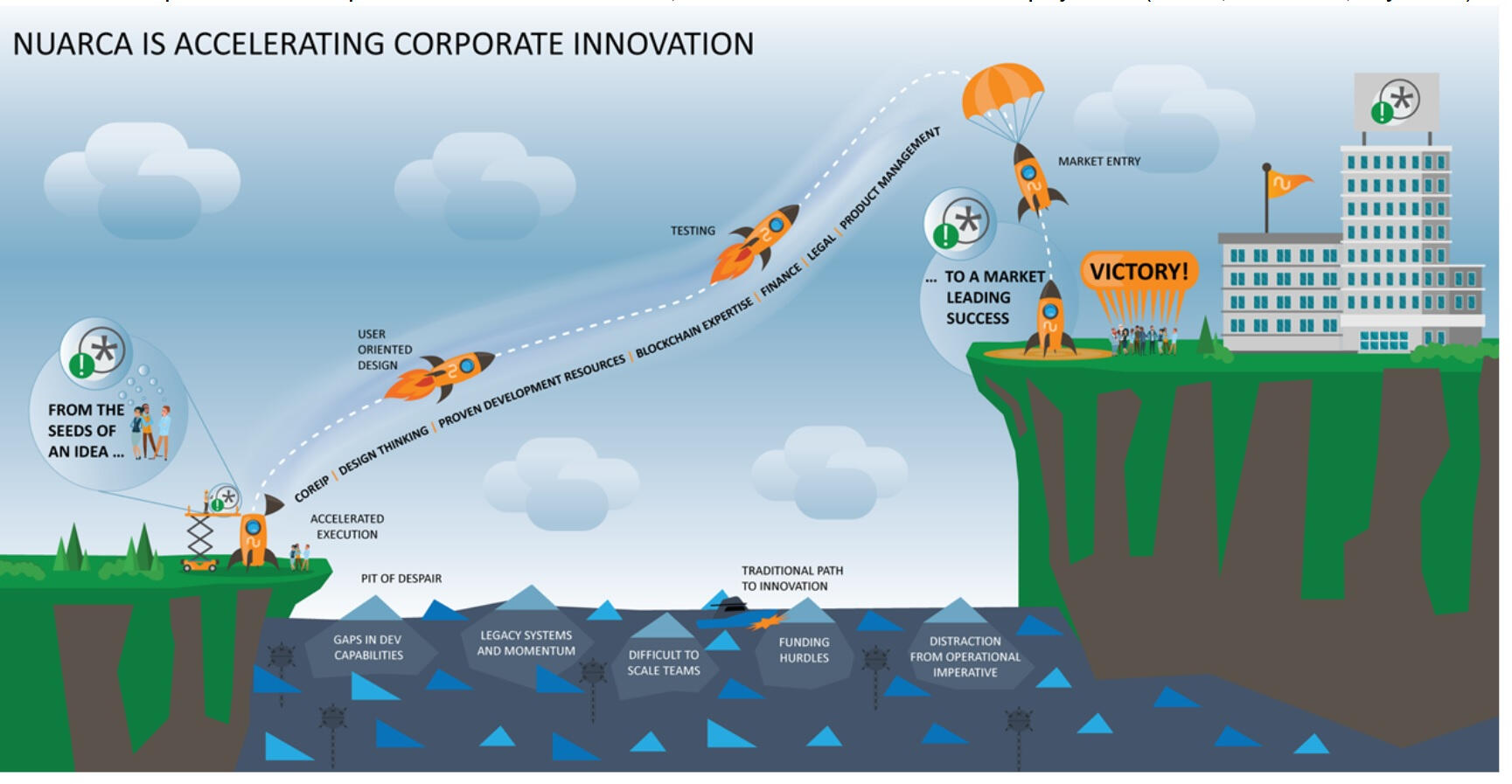 As they enter new industries, the CEO deploys me to provide coaching support for new hires that are well-connected domain experts, but need collaboration on an iterative plan to optimize a sales and marketing playbook specifically around disruptive complex technologies. Daily progress is resulting in several closed Pilot Programs for six figure deals in the Oil & Gas / Energy Industry.Assessing the competitive and partner landscape in the Music and Entertainment industry for opportunities to go-to-market with royalty solutions across B2B and B2C.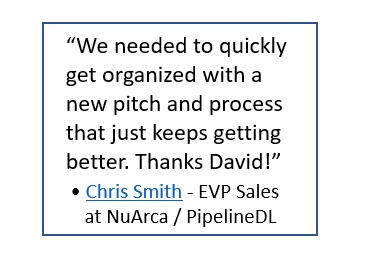 Chis Adds:
We include David in our Marketing Strategy calls where he helps on our overall marketing strategy and plan. Helping us decide the channels we use and the relevant content for different mediums. Such as: helping prepare a podcast and interviews, developing content for LinkedIn for leads, writing a series of content for an email campaign, presenting on a webinar, and overseeing what we should expect from our next marcom vendors or another marketing firm if and when we engage one.Much of the work we have done with David has also been preparing us to start broadcasting our message. His continued energy and creative ideas will be valuable.
---
3) Internal - Corporate Innovation Labs
My Role: Emerging tech advisor, custom software broker, interoperable problem solving

ZX Ventures is the Innovation and Investment Group inside Anheuser-Busch InBev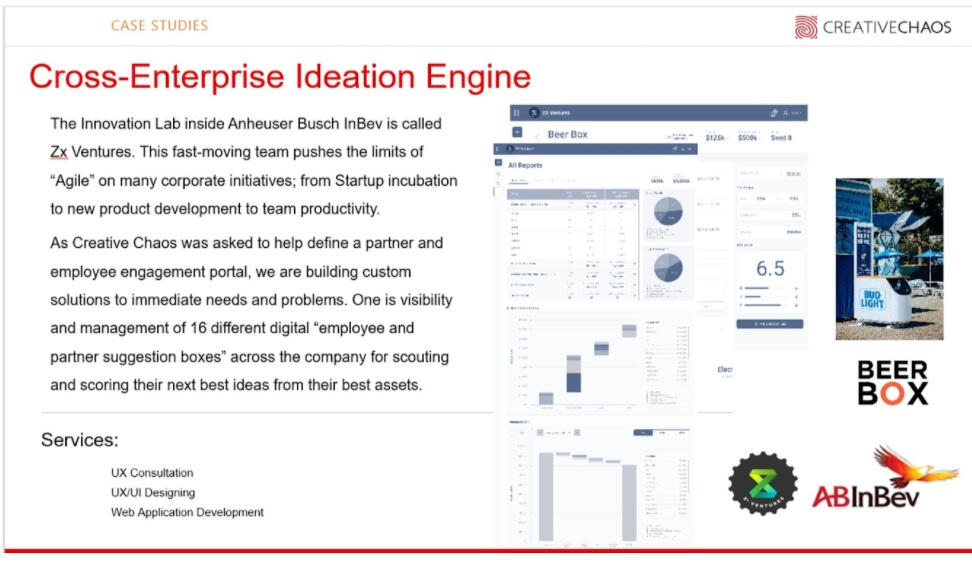 I was invited into their Innovation Lab to recommend vendors for their enterprise-wide employee engagement portal. Luckily I helped several divisions replace this with a series of custom software projects that satisfy the intersection of corporate mandates, IT priorities, and my contact's career paths. For one of my clients, I arranged for a $200k "Cross-Enterprise Ideation Engine" that accelerated the time to scout and scope business ideas from days of research down to a live database search in seconds. A Blockchain layer is imminent.
This is what Luke Cherrington Manager, Investing and Building, at ZX Ventures, said about me and my team:"David and his team at Creative Chaos are as much a way of thinking about technology as they are a dependable software development partner. They make it easy to do our jobs better. Whether in a sprint or during business strategy sessions, they bring process experience, fresh ideas and a commitment to deliver. One example is a cross-enterprise dashboard for scouting and scoring ideas from all our employees."
---
3) External - Corporate Innovation Consultancies
My Role: Alliance Manager. Emerging tech advisor, custom software broker, interoperable problem solving

Bionic is a growth transformation agency for the Fortune 500.
Another example is the connections I made for my client, a senior partner at strategy consultant, Bionic. He relied on me for business and technology corroboration of a new paradigm-shifting service for their Fortune 100 clients. We built a $400k "Project Growth Dashboard" to make C-Suite priorities more agile and accurate.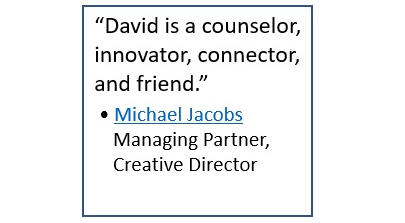 One more from one of my oldest clients:
Anne Martinez - President of AnVenture Publishing and GoCertify.com
Linkedin My Role: I advised this IT resource on business development and M&A opportunities."David is a passionate connector and coach and a magnet for creative energy. I have been working with him for years and strongly endorse his character and capabilities.David surrounds himself with a personal universe of innovative, positive people, and he has a way of putting the right people together so all parties can accomplish goals they never would have reached individually.David is not just about making things happen, he's about making GOOD things happen. Underlying everything is his core of integrity and dedication to finding real value for all parties involved in the process – from creator - to client - to end user.People like me bring David their best ideas, plans and even dreams, because we know he is a person who can facilitate the process of moving them from conception to reality, that he genuinely wants to see us succeed, and that he will throw all his resources and connections into making that happen.For these reasons and more,I consider David an invaluable business resource, and also a trusted friend."
---
I look forward to discussing the successes we can have together.Send me an email with your best time or use my Calendar to Zoom into your plans.
---